6/2133, Lance Corporal
SAMUEL FRICKLETON
3rd Battalion, 3rd N.Z. (Rifle) Brigade, N.Z.E.F.
Messines, Belgium, - 7 June, 1917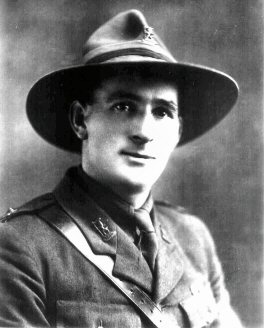 Lance Corporal Frickleton was born at Slamannan, Scotland, on 1 April 1891, and was 26 years old when the action for which he was awarded The Victoria Cross took place.
The citation from the London Gazette dated 2 August 1917 reads:
"For most conspicuous bravery and determination when with attacking troops, which came under heavy fire and were checked.
Although slightly wounded, Cpl. Frickleton dashed forward at the head of his section, pushed into the barrage, and personally destroyed with bombs an enemy machine gun and crew which was causing heavy casualties.
He then attacked a second gun, killing the whole of the crew of twelve.
By the destruction of these two guns, he undoubtedly saved his own and other units from very severe casualties, and his magnificent courage and gallantry ensured the capture of the objective.
During the consolidation of the position he received a second severe wound.
He set, throughout, a great example of heroism."
He later achieved the rank of Captain. He died at Naene, New Zealand, on 6 September 1971, and is buried at the Taita Serviceman's Cemetery, Naene, New Zealand.
His Victoria Cross is held at the Queen Elizabeth II Army Memorial Museum, Waiouru, New Zealand.
The medals awarded to Lance Corporal Frickleton are:
The Coronation Medal 1937
The Coronation Medal 1953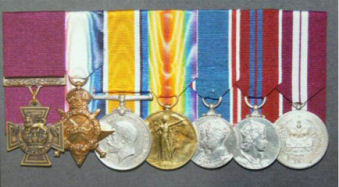 Samuel Frickleton's Medals