24/1699, Sergeant, D.C.M., M.M.
REGINALD STANLEY JUDSON
1st Battalion, Auckland Infantry Regiment, N.Z.E.F.
Bapaume, France - 26 August, 1918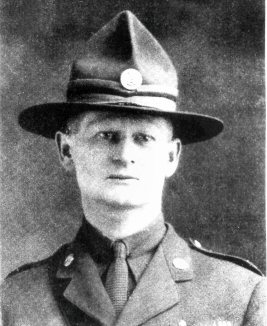 Sergeant Judson was born at Port Abert, New Zealand, on 29 September 1881, and was 36 years old when the action for which he was awarded The Victoria Cross took place.
The citation from the London Gazette dated 29 October 1918 reads:
"For most conspicuous bravery and devotion to duty when, in an attack on enemy positions, he led a small bombing party under heavy fire and captured an enemy machine-gun.
He then proceeded up a sap alone, bombing three machine-gun crews before him. Jumping out of the trench, he ran ahead of the enemy. Then, standing on the parapet, he ordered the enemy party, consisting of two officers and about ten men, to surrender. They instantly fired on him, but he threw a bomb and jumped down amongst them, killed two, put the rest to flight, and so captured two machine guns.
This prompt and gallant action not only saved many lives, but also enabled the advance to continue unopposed."
He later achieved the rank of Major. He died at Auckland, New Zealand, on 26 August 1972, and is buried at Waikumete Cemetery, Auckland, New Zealand.
His Victoria Cross is held at the Queen Elizabeth II Army Memorial Museum, Waiouru, New Zealand.
The medals awarded to Sergeant Judson are:
The Coronation Medal 1937
The Coronation Medal 1953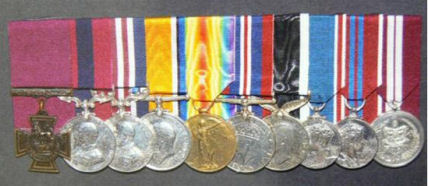 Reginald Judson's Medals