24/213, Sergeant
HARRY JOHN LAURENT
2nd Battalion, 3rd N.Z. (Rifle) Brigade, N.Z.E.F.
Gouzeaucourt Wood, France - 12 September, 1918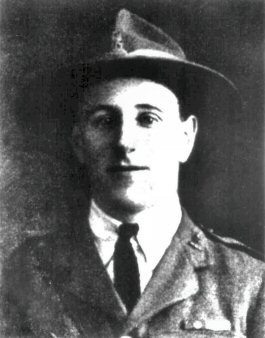 Sergeant Laurent was born at Tarata, Taranaki, New Zealand, on 15 April 1895, and was 23 years old when the action for which he was awarded The Victoria Cross took place.
The citation from the London Gazette dated 12 November 1918 reads:
"For most conspicuous bravery, skill, and enterprise when during an attack he was detailed to exploit an initial success and keep in touch with the enemy. With a party of twelve he located the enemy's support line very strongly held, at once charged the position, followed by his men, and completely disorganised the enemy by his sudden onslaught.
In the subsequent hand-to-hand fighting which ensued he showed great resourcefulness in controlling and encouraging his men, and thirty of the enemy having been killed, the remainder surrendered, a total of one officer and 111 other ranks in all.
The success of this daring venture, which caused his party four casualties only, was due to his gallantry and enterprise."
He later achieved the rank of Lieutenant Colonel. He died at Hastings, New Zealand, on 9 December 1987, and his Ashes are interred in the Memorial Wall at the Servicemen's Cemetery, Hawera, New Zealand.
His Victoria Cross is held at the Queen Elizabeth II Army Memorial Museum, Waiouru, New Zealand.
The medals awarded to Sergeant Laurent are:
The Coronation Medal 1937
The Coronation Medal 1953
The Silver Jubilee Medal 1977

Harry Laurent's Medals