24213, Private, M.M.
HENRY JAMES NICHOLAS
1st Battalion, Canterbury Infantry Regiment, N.Z.E.F.
Polderhoek, Belgium - 3 December, 1917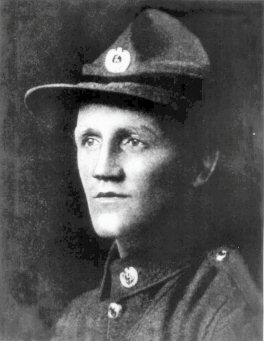 Private Nicholas was born at Lincoln, Canterbury, New Zealand,11 June 1891, and was 26 years old when the action for which he was awarded The Victoria Cross took place.
The citation from the London Gazette dated 8 January 1918 reads:
"For most conspicuous bravery and devotion to duty in attack. Pte. Nicholas, who was one of a Lewis-gun section, had orders to form a defensive flank to the right of the advance which was subsequently checked by heavy machine-gun and rifle fire from an enemy strongpoint. Whereupon, followed by the remainder of his section at an interval of about twenty five yards, Pte. Nicholas rushed forward alone, shot the officer in command of the strongpoint, and overcame the remainder of the garrison of sixteen by means of bombs and bayonet, capturing four wounded prisoners and a machine-gun.
He captured this strongpoint practically single-handed, and thereby saved many casualties.
Subsequently, when the advance had reached its limit, Pte. Nicholas collected ammunition under heavy machine-gun and rifle fire.
His exceptional valour and coolness throughout the operations afforded an inspiring example to all."
Private Nicholas later achieved the rank of Lance Sergeant.
He was killed in action at Le Quesnoy, France, on 23 October 1918. He is buried at the Vertigneul Churchyard, Romieres, France.
His Victoria Cross is held at the Canterbury Museum, Christchurch, New Zealand.
The medals awarded to Private Nicholas are: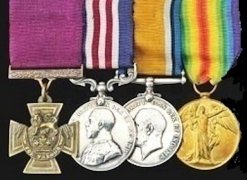 Henry Nicholas' Medals