Leading Seaman
WILLIAM ODGERS
H.M.S. Niger
Waireka - 28 March, 1860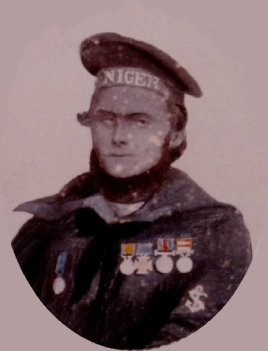 Leading Seaman Odgers was born at Falmouth, England, on 14 February 1834, and was 26 years old, and a Leading Seaman in the Royal Navy, during the Taranaki Maori War, New Zealand, when the action for which he was awarded The Victoria Cross took place.
e citation from the Edinburgh Gazette dated 7 August 1860 reads:
"On the 28th of March, 1860, William Odgers displayed conspicuous gallantry at the Storming of a Pah during operations against Rebel Natives in New Zealand; having been the first to enter it under a heavy fire, and having assisted in hauling down the enemy's colours."
This was the first Victoria Cross won in New Zealand.
Leading Seaman Odgers later achieved the rank of Quartermaster.
He died at Saltash, England, on 20 December 1873, and is buried at St Stephens Churchyard, Saltash, England.
His Victoria Cross is held at the Sheesh Mahal Museum, Patiala, India.
Because he was in the Royal Navy, the ribbon of his Victoria Cross was blue, as were the ribbons of all Victoria Crosses awarded to Naval personnel prior to 1920 when the crimson ribbon was adopted for all the services.