Assistant Surgeon
WILLIAM GEORGE NICHOLAS MANLEY
Royal Regiment of Artillery
Gate Pa - 29 April, 1864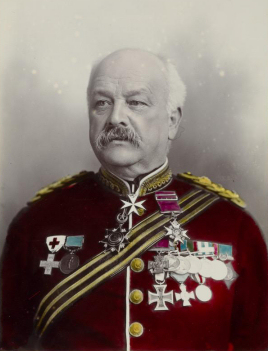 Assistant Surgeon Manley was born at Dublin, Ireland, on 17 December 1831, and was 32 years old, and an Assistant Surgeon in the Royal Regiment of Artillery, British Army, during the Waikato-Hauhau Maori War, New Zealand, when the action for which he was awarded The Victoria Cross took place.
e citation from the London Gazette dated 23 September 1864 reads:
"For his conduct during the assault on the Rebel Pah, near Tauranga, New Zealand, on the 29th of April last, in most nobly risking his own life, according to the testimony of Commodore Sir William Wiseman, Bart., C.B., in his endeavour to save that of the late Commander Hay, of the Royal Navy, and others.
Having volunteered to accompany the storming party into the Pah, he attended on that Officer when he was carried away, mortally wounded, and then volunteered to return, in order to see if he could find any more wounded.
It is stated that he was one of the last Officers to leave the Pah."
Assistant Surgeon Manley later achieved the rank of Surgeon General.
He died at Cheltenham, England, on 16 November 1901, and is buried at the Cheltenham Cemetery, Cheltenham, England.
His Victoria Cross is not publicly held.