3055 Private
THOMAS COOKE
8th Australian Infantry Battalion, A.I.F.
Pozieres, France - 24-25 July 1916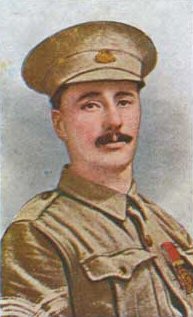 Private Cooke was born at Kaikoura, New Zealand, on 5 July 1881, and was 35 years old, and a Private in the 8th Battalion (Victoria), Australian Imperial Force, during the First World War, when the action for which he was awarded The Victoria Cross took place.
The citation from the London Gazette dated 9 September 1916 reads:
"For most conspicuous bravery. After a Lewis gun had been disabled, he was ordered to take his gun and gun-team to a dangerous part of the line. Here he did fine work, but came under very heavy fire, with the result that finally he was the only man left. He still stuck to his post and continued to fire his gun.
When assistance was sent he was found dead beside his gun. He set a splendid example of determination and devotion to duty."
Private Cooke was killed in action at Pozieres, France, on 28 July 1916, and has no known grave. His name appears on the Villers-Bretonneux Memorial, some 16 kilometres east of Amiens, along with 10,700 other Australian servicemen.
His Victoria Cross is held at the Queen Elizabeth II Army Memorial Museum, Waiouru, New Zealand.