Captain-of-the-Foretop
SAMUEL MITCHELL
H.M.S. Harrier
Gate Pa - 29 April, 1864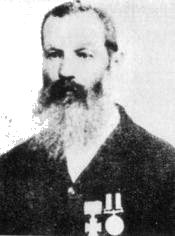 Captain-of-the-Foretop Mitchell was born at Apsley Guise, England, on 8 September 1841 and was 22 years old, and a Captain of the Foretop in the Royal Navy, during the Waikato-Hauhau Maori War, New Zealand, when the action for which he was awarded The Victoria Cross took place.
The citation from the London Gazette dated 26 July 1864 reads:
"For his gallant conduct at the attack at Te Papa, Tauranga, on the 29th of April last, in entering the Pah with Commander Hay, and when that Officer was mortally wounded, bringing him out, although ordered by Commander Hay to leave him, and seek his own safety. This man was at the time 'Captain of the Fore-top' of the "Harrier", doing duty as Captain's Coxswain; and Commodore Sir William Wiseman brings his name to special notice for this act of gallantry."
Captain-of-the-Foretop Mitchell drowned in the Mikonui River, Westland, New Zealand, on 16 March 1894, and is buried at Ross Cemetery in Hokitika, New Zealand.
His Victoria Cross is held at the West Coast Historical Museum, Hokitika, New Zealand.
Because he was in the Royal Navy, the ribbon of his Victoria Cross was blue, as were the ribbons of all Victoria Crosses awarded to Naval personnel prior to 1920 when the crimson ribbon was adopted for all the services.