Lieutenant
PERCY VALENTINE STORKEY
19th Battalion Australian Imperial Force
Bois de Hangard, France - 7 April 1918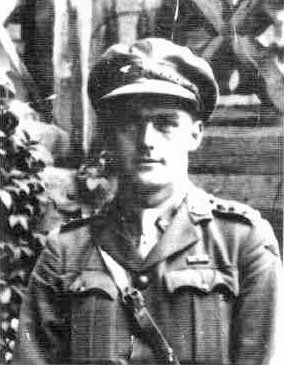 Lieutenant Storkey was born in Napier, New Zealand, on 9 September 1893, and was 24 years old, and a Lieutenant in the 19th Battalion (N.S.W.), Australian Imperial Force during the First World War, when the action for which he was awarded The Victoria Cross took place.
The citation from the London Gazette dated 7 June 1918 reads:
"For most conspicuous bravery, leadership and devotion to duty when in charge of a platoon in attack. On emerging from the wood, the enemy trench line was encountered and Lieutenant Storkey found himself with six men. While continuing his move forward, a large enemy party - about 80 to 100 strong - armed with several machine guns, was noticed to be holding up the advance of the troops on the right. Lieutenant Storkey immediately decided to attack this party from the flank and rear, and while moving forward in the attack was joined by Lieutenant Lipscombe and four men. Under the leadership of Lieutenant Storkey, this small party of two officers and ten other ranks charged the enemy position with fixed bayonets, driving the enemy out, killing and wounding about thirty, and capturing three officers and fifty men, also one machine gun.
The splendid courage shown by this officer in quickly deciding his course of action, and his skilful method of attacking against such great odds, removed a dangerous obstacle to the advance of the troops on the right, and inspired the remainder of our small party with the utmost confidence when advancing to the objective line."
He later achieved the rank of Captain.
He died on 3 October 1969 at Teddington, England, and was cremated at the SW Middlesex Crematorium, Hanworth, England.
His Victoria Cross is held at the Napier Boy's High School, Napier, New Zealand.