Sergeant
JOHN MURRAY
68th Regiment (Durham Light Infantry)
Tauranga - 21 June, 1864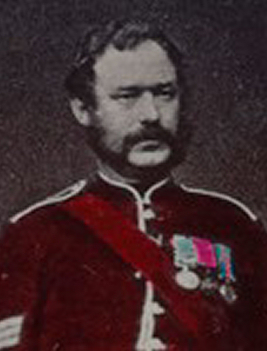 Sergeant Murray was born at Whigsboro, King's County, Ireland, in February 1837, and was approximately 27 years old, and a Sergeant in the 68th Regiment (later The Durham Light Infantry), British Army, during the Waikato-Hauhau Maori War, New Zealand, when the action for which he was awarded The Victoria Cross took place.
The citation from the London Gazette dated 4 November 1864 reads:
"For his distinguished conduct during the engagement at Tauranga, on the 21st of June, when the Enemy's position was being stormed, in running up to a Rifle Pit containing from eight to ten of the enemy, and, without any assistance, killing or wounding every one of them.
He is stated to have afterwards proceeded up the works, fighting desperately, and still continuing to bayonet the Enemy."
Sergeant Murray died at Derrinlough, County Offaly, Ireland, on 8 April 1912, and is buried at the English Churchyard, County Offaly, Ireland.
His Victoria Cross is held at the Durham Light Infantry Museum, Durham, England.