Captain
HUGH SHAW
18th Regiment
Nukumaru - 24 January, 1865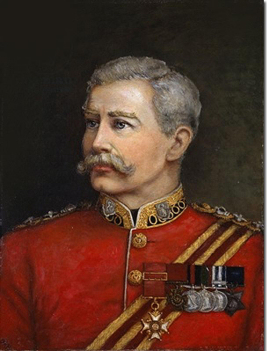 Captain Shaw was born at Madras, India, on 4 February 1839, and was 25 years old, and a Captain in the 18th Regiment (later Royal Irish Regiment), British Army, during the Waikato-Hauhau Maori War, New Zealand, when the action for which he was awarded The Victoria Cross took place.
The citation from the London Gazette dated 28 November 1865 reads:
"For his gallant conduct at the skirmish near Nukumaru, in New Zealand, on the 24th of January last, in proceeding, under a heavy fire, with four Privates of the Regiment, who volunteered to accompany him, to within 30 yards of the bush occupied by the Rebels, in order to carry off a comrade who was badly wounded. On the afternoon of that day, Captain Shaw was ordered to occupy a position about half a mile from the Camp. He advanced in skirmishing order, and, when about 30 yards from the bush, he deemed it prudent to retire to a palisade about 60 yards from the bush, as two of his party had been wounded. Finding that one of them was unable to move, he called for volunteers to advance to the front to carry the man to tie rear, and the four Privates referred to accompanied him, under a heavy fire, to the place where the wounded man was lying, and they succeeded in bringing him to the rear."
Captain Shaw later achieved the rank of Major General.
He died at Southsea, England, on 25 August 1904, and is buried at the Highland Road Cemetery, Portsmouth, England.
His Victoria Cross is held at the National Army Museum, Chelsea, England.