Captain
HENRY CECIL DUDGEON D'ARCY
Cape Frontier Light Horse, South African Forces
Ulundi, South Africa - 3 July 1879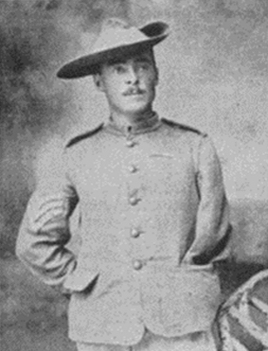 Captain D'Arcy was born at Wanganui, New Zealand, on 11 August 1850, and was 28 years old, and a Captain in the Cape Frontier Light Horse, South African Forces, during the Zulu War, when the action for which he was awarded The Victoria Cross took place.
The citation from the London Gazette dated 10 October 1879 reads:
"For his gallant conduct on the 3rd July, 1879, during the reconnaissance made before Ulundi by the Mounted Corps, in endeavouring to rescue Trooper Ranbenheim of the Frontier Light Horse, who fell from his horse as the troops were retiring. Captain D'Arcy, though the Zulus were close upon them, waited for the man to mount behind him; the horse kicked them both off, and although much hurt by the fall and quite alone, Captain D'Arcy coolly endeavoured to lift the trooper, who was stunned, on to the horse, and it was only when he found that he had not strength to do so that he mounted and rode off.
His escape was miraculous as the Zulus had actually closed upon him."
Captain D'Arcy is believed to have committed suicide between 8 August and 28 December 1881, and is buried at King William's Town Cemetery, Cape Province, South Africa.
His Victoria Cross was held by various members of his family until about 1965 when it seemed to vanish. It resurfaced in 1992 when it was reported in the press that it was to be put up for sale by the Royal Pay Corps Regimental Association. Following negotiations with the D'Arcy family, the medal was given back into the family's possession under a mutual trust with the Royal Pay Corps Regimental Association.