Captain
FREDERICK AUGUSTUS SMITH
43rd Regiment
Tauranga, New Zealand - 21 June, 1864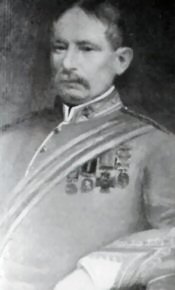 Captain Smith was born at Dublin, Ireland, on 18 November 1826, and was 37 years old when the action for which he was awarded The Victoria Cross took place.
The citation from the London Gazette dated 4 November 1864 reads:
"For his distinguished conduct during the engagement at Tauranga, on the 21st of June. He is stated to have led on his Company in the most gallant manner at the attack on the Maories' position, and, although wounded previously to reaching the Rifle Pits, to have jumped down into them, where he commenced a hand to hand encounter with the Enemy, thereby giving his men great encouragement, and setting them a fine example."
Captain Smith later achieved the rank of Lieutenant Colonel.
He died at Breely, Duleek, County Meath, Ireland, on 22 July 1887, and is buried at Duleek Churchyard, County Meath, Ireland.
His Victoria Cross is was bought privately at auction on 21 July 1998 for the price of £40,000, and is held at the Lord Ashcroft Gallery, Imperial War Museum, London, England.