Colour-Sergeant
EDWARD MACKENNA
65th Regiment (York & Lancaster Regiment)
Camerontown - 7 September, 1863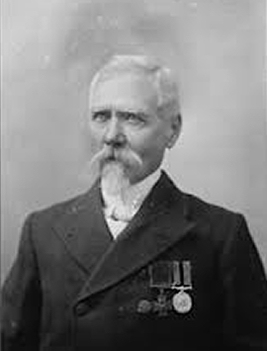 Colour-Sergeant MacKenna was born at Leeds, England, on 15 February 1827, and was 36 years old, and a Colour-Sergeant in the 65th Regiment (later the York and Lancaster Regiment), British Army, during the Waikato-Hauhau Maori War, New Zealand, when the action for which he was awarded The Victoria Cross took place.
The citation from the London Gazette dated 19 January 1864 reads:
"For gallant conduct at the engagement near Cameron-town, New Zealand, on the 7th of September, 1863, after both his officers, Captain Swift and Lieutenant Butler, had been shot, in charging through the position of an enemy heavily outnumbering him, and drawing off his small force, consisting of two Serjeants, one bugler and thirty five men, through a broken and rugged country, with the loss of but one man killed, and another missing. Lieutenant-General Cameron, C.B., Commanding Her Majesty's Forces in that colony, reports that, in Colour-Serjeant MacKenna, the detachment found a Commander whose coolness, intrepidity, and judgment, justified the confidence placed in him by the soldiers brought so suddenly under his command."
Colour-Sergeant MacKenna later achieved the rank of Ensign.
He died at Palmerston North, New Zealand, on 8 June 1908, and is buried at the Terrace End Cemetery, Palmerston North, New Zealand.
Victoria Cross is held at the Auckland War Memorial Museum, Auckland, New Zealand.