Drummer
DUDLEY STAGPOOLE
57th Regiment
Poutoko - 2 October, 1863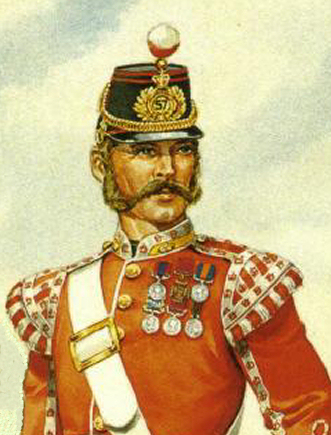 Drummer Stagpoole was born at Killunan, County Galway, Ireland, in 1838 and was approximately 25 years old, and a Drummer in the 57th Regiment (later The Middlesex Regiment (Duke of Cambridge's Own)), British Army, during the Waikato-Hauhau Maori War, New Zealand, when the action for which he was awarded The Victoria Cross took place.
The citation from the London Gazette dated 23 September 1864 reads:
"For their conduct at Pontoko, on 2nd October, in rescuing a wounded comrade from the rebel Maories.
They succeeded in bringing in the wounded man, who was lying at about fifty yards from the bush, although the enemy kept up a very heavy fire from the bush at short range, and also from behind fallen logs close at hand.
The man had been wounded during an engagement with the rebel natives, and Ensign Down, and Drummer Stagpoole, responded to the call of the Officer commanding the detachment of the Regiment for volunteers to bring him in.
The Medal for Distinguished Conduct in the Field has already been conferred on Drummer Stagpoole, for the energy and devotion which he displayed on the 25th September, 1863, at the affair near Kaipakopako, in having, though wounded in the head, twice volunteered and brought in wounded men."
Drummer Stagpoole was also awarded the Distinguished Conduct Medal for separate actions on the same day. He is the only member of the British Armed Forces to ever earn both awards on the same day.
He died at Ware, Hertfordshire, England, on 1 August 1911, and is buried at the Hendon Park Cemetery, Ware, Hertfordshire, England.
His Victoria Cross is held at the Princess of Wales's Royal Regiment & Queen's Regiment RHQ, Canterbury, England.