8/3504, Sergeant
DONALD FORRESTER BROWN
2nd Battalion, Otago Infantry Regiment, N.Z.E.F.
South-east of High Wood, France - 15 September, 1916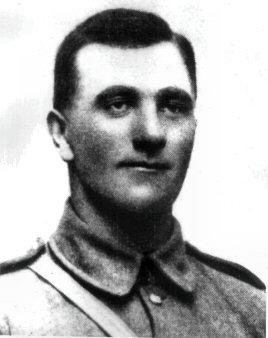 Sergeant Brown was born at Dunedin, New Zealand, on 23 February 1890, was 26 years old when the action for which he was awarded The Victoria Cross took place.
The citation from the London Gazette dated 12 June 1917 reads:
"For most conspicuous bravery and determination in attack when the company to which he belonged suffered heavy casualties in officers and men from machine gun fire.
At great personal risk this N.C.O. advanced with a comrade and succeeded in reaching a point within thirty yards of the enemy guns. Four of the crew were killed and captured.
The advance of the company was continued till it was again held up by machine-gun fire. Again Sjt. Brown and his comrade with great gallantry rushed the gun and killed the crew. After this second position had been won the company came under very heavy shell-fire, and the utter contempt for danger and coolness under fire of this N.C.O did much to keep up the spirit of his men.
On a subsequent occasion in attack, Sjt. Brown showed most conspicuous gallantry. He attacked single-handed a machine-gun which was holding up the attack, killed the gun crew and captured the gun. Later, whilst sniping the retreating enemy, this very gallant soldier was killed."
He was killed in action near Eaucourt L'Abbaye, France, on 1 October 1916, and is buried at Warlencourt British Cemetery, France.
The location of his Victoria Cross is not known.