Major
CHARLES HEAPHY
Auckland Rifle Volunteers attached to Imperial Forces,
New Zealand
Mangapiko, Waikato, New Zealand - 11 February, 1864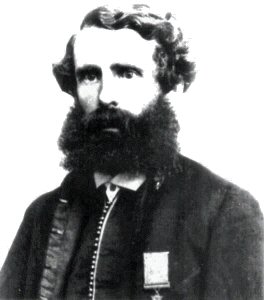 Major Heaphy was born at London, England, in 1821, and was 42 years old when the action for which he was awarded The Victoria Cross took place.
The citation from the London Gazette dated 8 February 1867 reads:
"For his gallant conduct at the skirmish on the banks of the Mangapiko River, in New Zealand, on the 11th of February, 1864, in assisting a wounded soldier of the 40th Regiment, who had fallen into a hollow among the thickest of the concealed Maories. Whilst doing so he became the target for a volley at a few feet distant. Five balls pierced his clothes and cap, and he was wounded in three places. Although hurt, he continued to aid the wounded until the end of the day.
Major Heaphy was at the time in charge of a party of soldiers of the 40th and 50th Regiments, under the orders of Lieutenant-Colonel Sir Henry Marsham Havelock, Bart., C.B., V.C., the Senior Officer on the spot, who had moved rapidly down to the place where the troops were hotly engaged and pressed."
He died at Toowong, Australia, on 3 August, 1881 and is buried at Toowong Cemetery, near Brisbane, Australia.
His Victoria Cross is held at the Auckland War Memorial Museum, Auckland, New Zealand.